The housing you choose when going to college or university can substantially impact your overall campus life not only while studying but also when unwinding. And if you don't prefer student housing, perhaps, due to cluttered closets, shared bathrooms, or twin-sized beds, off-campus accommodation can be a good option. More so, this option can offer you more independence, privacy, and space. They're also quieter than student housing, making them a good studying environment.
But before you sign a year or semester-long contract for off-campus student housing, there are certain factors you may need to consider. Without doing this, you may risk making an error in judgment that you might regret during your whole stay.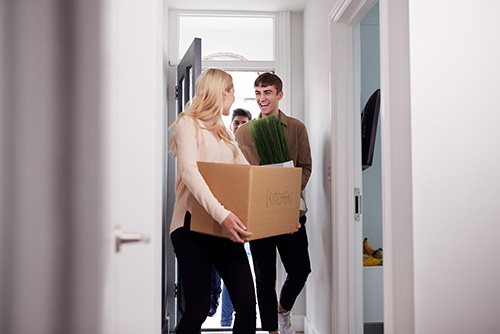 To help you make a more informed decision, here are several factors you should consider.
1) Know Your Budget
How much are you ready to spend on off-campus student housing? This should be one of the first questions you should answer when searching for off-campus accommodation. After all, you can only choose off-campus housing you can afford without straining your budget.
With that said, you must first determine how much money you can comfortably spend before seeing yourself in off-campus housing. To help you get started, consider checking out hillcrest-townhouses.com to know your options.
But aside from the rent, there are other considerations you also need to factor in to assess your monthly budget more or less, and this includes:
Security Deposits: These deposits are a requirement in most apartments and are usually equal to one month's rent.
Utilities: The cost of utilities such as water, internet, electricity, heating, cooling, and trash services, are often not included in the monthly rent.
Pet Fees: If you're planning to bring a pet with you, there might be an additional fee. Usually, you may be expected to pay an additional monthly fee or extra deposit, depending on the management.
Parking Fees: This fee applies if you have a car. But this isn't a requirement in all off-campus accommodations.
Ideally, the total amount of your rent plus all these costs shouldn't exceed 30 to 40 percent of your net income, so you don't get short. If it does, consider cutting back on other expenses, or perhaps, move into the apartment with one or two friends to share the total living cost.
2) Consider Its Location
The off-campus housing you choose should be conveniently accessible to and from your campus to ensure you're never late for any class and lectures. One way to ensure this is by choosing an apartment close to bike paths, walking routes, and public transportation. That way, even if you don't own a car, you can easily be picked up and dropped off during your commute.
Aside from the campus accessibility, you'd also have to think about your off-campus housing's proximity to places such as grocery stores, food establishments, gas stations, and more. Checking whether you can easily access everyday necessities can be a good benchmark.
Moreover, you may also check the neighborhood you're planning to move into. You can take a tour of where your off-campus housing is located to get the overall feel and experience of the neighborhood and community before signing any lease agreement.
3) Determine Your Space Requirements
You must find out how much personal living space you need when searching for off-campus accommodation. Generally, finding the ideal living space size depends on your lifestyle needs and preferences. For instance, do you mind using your dining table as your work desk too? Or perhaps, you're planning to put up a separate table for your campus tasks since it's more organized that way?
Moreover, if you prefer spacious accommodation that offers premium privacy, then it'd be best to get a room where you'll live all by yourself, but this is often costlier. But if you don't mind living with a roommate, a shared apartment would also be great.
4) Pick Your Roommates Wisely
It's no doubt that sharing off-campus housing with other students can be an excellent way to cut down on your monthly spending. However, you shouldn't just choose any roommate and should instead opt to live with someone with a similar lifestyle and preferences as you.
Otherwise, chances are, there's bound to be some friction between you and your roommate, which can make the living arrangement trickier and more complicated.
To help you avoid this, consider getting to know a potential roommate before moving in. It'd be good to find out certain things and traits about them, such as:
The frequency at which they hold gatherings and entertain guests
Class schedules
Smoking and drinking habits
Are they night owls or early birds
Health and hygiene practices
Financial standing and credit rating
Their study habits, whether in silence or while listening to music
Their leisure activities, for instance, cooking or partying
In addition to this, you'd want a roommate who is trustworthy to live around without worrying about the safety of your valuables. It's advisable to have a friend as your roommate as this can save you the time of adjusting and familiarizing yourself with their habits. More so, you'll most likely have similar lifestyle preferences meaning there's less likelihood of friction between you two.
5) Ask About Amenities
While education is your primary focus in college, you'd also want to enjoy comfort and convenience even as you study. This is why you need to assess the off-campus accommodation to gauge whether it's got all the necessary amenities that can further enhance your overall experience.
Examples of such amenities include:
Entertainment: A smart TV, for instance, which you can use when unwinding and relaxing after a long day.
Laundry Facilities: This includes a dryer and washer to save you the time and effort of taking your laundry to a nearby local laundry shop.
Heating And Cooling System: Air conditioning unit to ensure you're cool, especially during the summer. Or a heating system to keep you warm during winter.
Storage Service: Access and use of storage without paying an extra fee should you want additional storage space for your valuables.
6) Think About Security And Safety
Aside from the amenities, check out the off-campus accommodation's safety and security measures too. This is because, above everything else, you shouldn't compromise your safety. Feeling safe within your chosen environment should be one of your priorities. Because at the end of the day, your comfort and peace of mind should always be valued.
With this in mind, you need to assess prospective off-campus housing carefully. To help you out, here are some parameters you may consider checking:
The neighborhood's general atmosphere
Confirm the window locks work properly
The building's entrance and exit
Frequency the locks are changed
These metrics can help you gauge the general security of the off-campus accommodation you're eying to determine if it's indeed a safe place to stay.
7) Consider Unfurnished Versus Furnished Apartments
There are two options to go for when searching for off-campus housing, and this is either going for an unfurnished or furnished apartment.
If you opt for a furnished apartment, you should be ready to pay more than the unfurnished one. However, you still save because you don't need to buy any furnishings such as chairs, beds, sofas, tables, futons, dressers, nightstands, to name a few when moving in. Instead, the cost is spread out over a prolonged duration which is appealing because buying furnishings for the average college student is beyond your budget.
An unfurnished apartment is also another alternative if you want your living space to have a personal touch or can't find a furnished apartment around your university. There are certain cost-saving strategies you can employ to cut down on your spending, such as:
Find cheap furniture to buy on online selling sites
Buy furniture from previous tenants, which can be especially common immediately after finals
When choosing which housing caters more to your needs and preferences, it's always best to consult your budget to ensure that you won't go overboard or spend more than what you can and intend to.

8) A Trustworthy Off-Campus Housing
Aside from classrooms and university amenities, a student's living situation can also contribute to a favorable learning experience. This is necessary because life as a student, while fun, can equally be hectic and challenging. The last thing you want is to experience any stresses that may impact how well you can go about with your personal and academic growth.
Due to this, you need to search for off-campus housing that not only provides you with a conducive environment to best focus on your studies and other college activities but a place you are comfortable being at and a landlord you also trust.
If you want to find out more information about an apartment's trustworthiness, here are a couple of helpful tips that can help you out.
Research everything about the off-campus housing you're looking to rent. You can do this by asking the current tenants questions, such as if they have any complaints about the apartment or perhaps, finding out if the landlord abides by the renter's rights. Doing this is necessary to make sure that you get off-campus housing that observes and practices a culture of shared responsibility and mutual respect.
Check out actual reviews and feedback to find more information about a particular off-campus accommodation you're considering. You can get such information on various review sites and social media pages to better gauge what's the ideal apartment to get.
Getting the right information about your landlord and the apartment you're planning to rent can help you make an informed decision on whether the off-campus accommodation is worth investing in, or it may be time to look elsewhere.
9) Choose The Best Lease For You
Another thing you must do before choosing off-campus accommodation is to go over the lease agreement carefully. This is crucial because some landlords only accept tenants willing to sign a one-year lease, especially those who still haven't worked with students in the past. Other property owners who've dealt with students before are more flexible and can accept shorter lease terms one semester long.
With that in mind, asking about the lease term should be one of your agendas when meeting with a potential landlord. This way, you can save precious time trying to find out whether the apartment is an ideal match for you or not.
Although, generally, for short-term leases, you may expect to shell out more money compared to one-year leases. However, you might still save money this way than leasing off-campus housing for an entire year, especially when you aren't sure if you're going to need one by then.
10) Ask About Renters' Insurance
Aside from discussing in-depth the terms of your lease, consider asking about renters' insurance too. In general, renters' insurance can save and protect you from serious losses should you fall victim to theft or an unexpected circumstance happens like water damage or fire.
With that said, it's advisable to look for off-campus housing that includes renters' insurance as part of the lease and terms agreement. This will be better than taking out the insurance cover by yourself. In addition, it saves you from serious losses should you fall victim to theft.
11) Know The Rules
Every off-campus accommodation has its unique set of rules and regulations that every person living in the apartment must follow to guarantee peace and order among tenants and the property. You must thus create time to go over the rules put in place by the management to know whether they're acceptable to you. More so, you can discuss with the landlord if you have any questions or clarifications.
Final Words
When searching for the ideal off-campus housing, you should consider various factors, from your personal preferences and lifestyle needs to the accommodation's amenities and features to security measures, even the feel of the neighborhood. Proper planning and consideration will allow you to focus on your studies without constantly worrying about your living arrangement.
Finding the right off-campus accommodation that caters to your needs and requirements can be overwhelming. With that said, this article has outlined some of the factors you may want to consider when choosing the ideal housing for you.