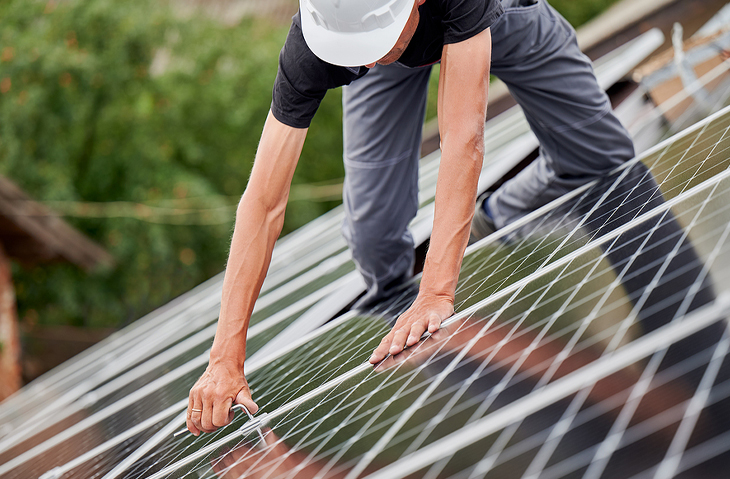 Work Environment
Solar photovoltaic installers held about 11,800 jobs in 2020. The largest employers of solar photovoltaic installers were as follows:
Electrical contractors and other wiring installation contractors - 42%
Plumbing, heating, and air-conditioning contractors - 29%
Utilities - 7%
Because photovoltaic (PV) panels convert sunlight into electricity, most PV installation is done outdoors. Residential installers work on rooftops but also sometimes work in attics and crawl spaces to connect panels to the electrical grid. PV installers who build solar farms work at ground level.
PV installers may work alone or as part of a team. Installation of solar panels may require the help of roofers and electricians.
Injuries and Illnesses
Solar photovoltaic installers risk falls from ladders and roofs, shocks from electricity, and burns from hot equipment and materials while installing and maintaining PV systems. To reduce the risk of injury, PV installers must wear safety equipment, such as harnesses, gloves, and hard hats.
Job Outlook
Employment of solar photovoltaic installers is projected to grow 52 percent from 2020 to 2030, much faster than the average for all occupations.
About 2,300 openings for solar photovoltaic installers are projected each year, on average, over the decade. Many of those openings are expected to result from the need to replace workers who transfer to different occupations or exit the labor force, such as to retire.
Employment
The continued expansion and adoption of solar PV systems is expected to create jobs for their installation and upkeep. As the cost of PV panels and shingles continues to decrease, more households are expected to take advantage of these systems, resulting in greater demand for the workers who install and maintain them. The increasing popularity of solar leasing plans—in which homeowners lease, rather than purchase, systems—should create additional demand, because homeowners no longer bear the upfront costs of installation.
Demand may be greatest in states and localities that provide incentives to reduce the cost of PV systems.
Earnings
The median annual wage for solar photovoltaic installers was $47,670 in May 2021. The median wage is the wage at which half the workers in an occupation earned more than that amount and half earned less. The lowest 10 percent earned less than $36,320, and the highest 10 percent earned more than $72,080.
In May 2021, the median annual wages for solar photovoltaic installers in the top industries in which they worked were as follows:
Utilities - $48,370
Plumbing, heating, and air-conditioning contractors - $47,930
Electrical contractors and other wiring installation contractors - $47,610