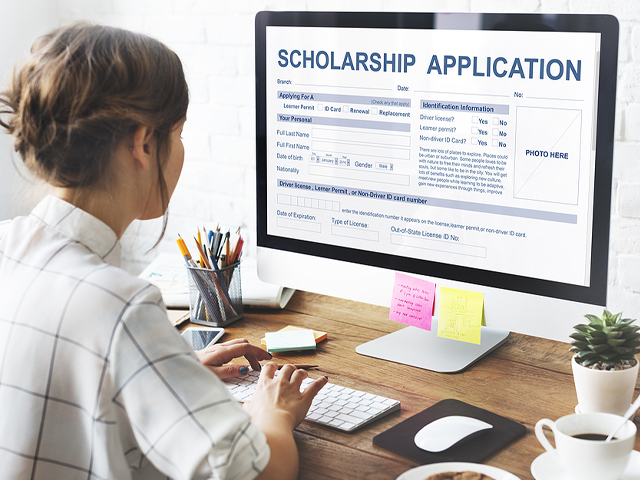 Think of scholarships as monetary gifts that don't need to be paid back. These fantastic opportunities are offered by private companies, schools, communities, employers, non-profits, social organizations, professionals, and religious groups. In fact, there are thousands of scholarships out there. They can provide you with some much-needed respite from the costs associated with attending college, career school, or university.
Different Types of Scholarship Offers
There are both merit-based options and scholarships awarded based on financial need. It is important to research the various options and criteria. If you meet or exceed particular standards that are stated by the scholarship-giver, you may be a recipient. Academic achievement and merit-based scholarships may be given on a combination of a certain interest, trait, or academic achievement. Additionally, many scholarships require you to write an essay. These scholarships can be quite valuable, as this requirement can lead to less competition.
Lots of scholarships are given to specific groups of people. For example, there are scholarships for military families, or graduate student scholarships. Others are for people or a specific background or where your parents or you are employed. The possibilities and different criteria are endless.
The amount awarded by scholarship is equally as far-ranging. Some scholarships award a few hundred dollars, while others may cover the full cost of tuition. There may be one-time awards given or full rides for your entire academic career. It is best to apply for as many different ones as you can.
What Is the Best Way to Find Scholarships?
There are many avenues to explore when seeking scholarship opportunities. Contact your school's financial aid office to obtain information about different offers. Look online and check out your library too. However, it is essential to verify the information you receive and ensure it is current and legit. Some scholarships are offered every other year and others expire. If you are reading about an older offer, ensure it is still valid before you get your hopes up. Learn how to avoid scams, and remember, you don't have to pay for any information regarding financial aid or scholarships.
Check out the following resources below:
your state grant agency
The financial aid office at a career school or college
Ethnicity-based organizations
A school counselor
The reference section of your library
Your parent's employers or your employer
Local businesses, community organizations, religious groups, civic groups, or organizations
federal agencies
Applying for Scholarships
Every scholarship has specific requirements. The website for the scholarship will indicate how to apply and what the qualifications are. Ensure you read the application thoroughly. If you miss any information, you could be disqualified. Fill out everything completely and make a note of the application deadline. Late applications are often automatically disqualified. Mark a calendar on your phone or in your planner to keep track of deadline dates and aim to have everything ready to submit a few days prior.
When Is the Best Time to Apply for Scholarships?
Every scholarship is different. Some deadlines are up to a year before college begins. It is wise for high school students to begin searching for scholarships now. Plan to start applying between your junior and senior years. If this timeframe has already passed, don't despair. There will still be plenty available that you can apply for now.
How Is My Scholarship Money Disbursed?
The type of scholarship you apply for depends on how you will receive your money. Some will distribute it directly to your school and the funds will be applied to fees, tuition, or any other amounts you owe. If there is leftover money, it will be given to you, or they may send you a check. Once you have been awarded the scholarship, the provider will let you know what to expect. If they don't offer the information, simply ask and they will be able to answer your questions.
Will A Scholarship Affect My Other Student Aid?
All of the student aid you receive cannot be more than the cost of attendance at your career school or college, so a scholarship will affect the amount you can receive. If you have been awarded a scholarship, you need to notify your school so the financial aid office can take that amount away from your attendance cost and from other loans or aid that you may have been offered. Any remaining amount can be covered by additional financial aid that you are eligible for. If you have any concerns or questions, simply contact your financial aid office and they will be able to explain the funds.
Don't Leave Scholarship Applications To the Last Minute
Try to give yourself plenty of time to complete your scholarship requirements. Many are dependent on essay questions or written content. Ensure that you have time to outline, draft and edit your submission. Don't be disqualified due to spelling or grammatical errors. If you need help, don't hesitate to use write my essay services. Additionally, give yourself time to ask a trusted adult or friend to proofread for you or give you some feedback. Trying to start your submission the day before it is due can leave you overtired, stressed and more prone to make mistakes.
Create a Scholarship Submission Schedule
Try marking on a calendar your scholarship goals and their deadlines. Give yourself a few extra days to submit and mark the due date 72 hours or a week in advance of the real due date to give you some extra time. Set some goals for your submission process. Reward yourself if you meet your submission deadlines. Many scholarships are awarded on a first-come, first-serve basis. Give yourself the best chance possible by being one of the most memorable essays and one of the first ones they receive.
Avoid Copy and Pasting The Same Essay
One of the most common mistakes is that students write one essay and submit it to multiple places. It is important to read the scholarship information. Many have specific questions they want you to address in your application or tell a story. When they read the first few lines or paragraphs and it seems related to another essay, they will often toss it aside. Try to personalize each essay to the specific scholarship. Note the word count too as this is another easy way to become disqualified.